Manufacturing Jobs in US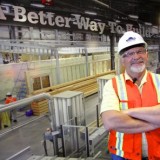 Every company that creates products has a manufacturing component, whether in-house or outsourced. Some form of contract manufacturing is available and utilized in almost every industry these days.
The growing complexity of customer requirements, new product releases and shorter delivery cycles require manufacturing technology solutions which are both flexible and efficient.
Automation has empowered us to complete the manufacturing and assembly of a car in a few hours, in accordance with precise technical specifications. Automated setups for product manufacturing from food products to aircraft are designed and maintained by mechanical engineers.
As long as these setups are running, engineers and technicians are needed for modifications, upgrades and repair of manufacturing systems.
Search for manufacturing jobs in the database.
Your IP Address: 3.87.33.97
jobs by
Employers
Add your company's jobs to the database.