About Us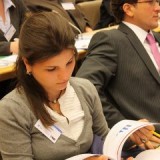 Whether you are a Wharton MBA graduate or a high school student contemplating a career in management, Executive Job Seeking has some information that will benefit your ambitions.
For those with no college experience or no plans to go to college, we include topics of interest concerning the type of training and experience necessary to advance to the highest level supervisory positions within their chosen professions or trades. These people make the most money because they make the most decisions.
No interest in advancing up the career ladder? Unfortunately, you probably won't find much of interest here.
The site content is organized in the form of up-to-date articles and reports that cover one or more of the following topics:
educational requirements for careers
impacts of economy on sectors & career choices
leadership and management skills requirements
the value of degrees and certifications
available funding and financial aid
college and university programs
career and job descriptions
job application procedures
licensing and certification study
At some point, you may see some specific job vacancies listed on this site. These listings will likely be syndicated from one of the well-known, respected job sites and will be shown in one of the the appropriate categories to the right of this content.
Work With Us
Researchers & Writers: If you have excellent Internet/Social Media and writing skills, we pay between $9.85 and $21.55 per article for freelance article writers and blog posters. An example of the type of articles we request is this article about this corporate-sponsored scholarship.
If you would like to write articles for EJS and our associated social media properties, please let us know by using the contact form below.
---
Contact
IP Address:

44.201.72.250