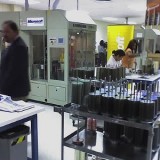 The best manufacturing jobs for 2017 offer good wages and have a high potential for career growth in the future. A closer look at the manufacturing industry shows that this industry has faced considerable advancement recently due to new technologies.
Currently, manufactured goods that are in use daily are created utilizing the latest technologies like robotics, computer-operated machinery and 3D printing. In the U.S., the manufacturing industry ranked as the ninth largest revenue-generating industry.
As of Q4, 2016, the Year-Over-Year Percentage Change in Pay for the manufacturing industry is 1.3% according to PayScale data. This data comes from manufacturing industries such as clothing, food, plastic products as well as petroleum refineries and sawmills. The PayScale Index is one of the most reliable and easiest ways to track quarterly changes in overall cash compensation for employees who work full-time in private industries in the US. The PayScale index for manufacturing industries is 111.3 in the last quarter of 2016, whereas in 2010, it was only 104.0. This implies that there is phenomenal growth in the manufacturing industry and that salaries in this industry are increasing yearly. See Job Descriptions & Salaries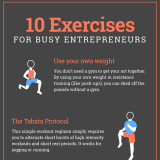 You know you need exercise to keep your body healthy. This is undisputed common knowledge, and yet a majority of people forget to do this. The most common excuse is because of their busy schedule. According to statistics, only around 20% of adults in the United States meet the recommended amount of exercise for keeping a fit and healthy body.
This is probably even more difficult for business owners, executives, and every other person chasing after their career goals, 24/7. It may be challenging to fit exercise into your daily schedule as a professional, not to mention the other roles you need to do, like being a parent, son, daughter, or a friend; but it must be done.
Find time to incorporate exercise into your hectic schedule. If you make it a habit, you'll get used to it and it will all be part of your regular routine. If you can't go to the gym, that's fine as there are exercises that you can do without having to go there.
These workouts can be done at home, in your office, or even in hotel rooms. Some of them don't even require any special exercise materials to be performed. Plus, they can be conveniently done for a short time, which is perfect for busy folks.
We want to support you in making a healthy change to your lifestyle. For this reason, we prepared this easy-on-the-eye infographic that lists quick workouts for busy business people.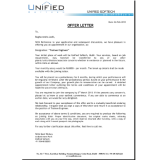 FOR JOB SEEKERS:
This is the third in a three-part series of articles about the job search process, and the most effective way to find the right job for you. In this third article, Vanessa Romero of Neuvoo describes the role and function hiring managers and how they identify best candidates to fill their vacancies. The
first article
and the
second article
of this series can be found in the
Job Search
category archive.
When it comes to finding the right job, we all know the company has the last say in regards to deciding whether to hire you or not, and their thoughts are always a taboo of some sort, their likes and preferences. We are talking about the Hiring Managers, or basically, the representation of the company in the whole recruiting and selection process.
Mentioning hiring managers implies talking about very diverse people; they come from different careers and backgrounds, but they all have one thing in common: they are looking for the best candidate to fill their vacancies.
In order to understand them, we first need to know what they actually do during the recruitment/selection process. First, if you are interested in a job with a big company, then you know this hiring manager has definitely seen many resumes, both good and bad –- even catastrophic ones, and he or she probably has a group of people helping them throughout the process. Whenever they open a new vacancy, dozens of recruiters start working towards finding the right fit for the company, and it usually takes only minutes to find the right match.
Picture this: in average, every recruiter needs to send at least three qualified candidates for one vacancy; if there are 30 recruiters working on the same request at the same time, by the end of the day, there will be at least 90 suitable candidates for the same vacancy. That is definitely too many people. You may ask yourself then, how will I get a chance among all of these people? The answer is easy -- right timing.
The recruitment process is a matter of time, the fastest, the keeper. Since hiring managers receive many resumes in very little time, the one who comes first will probably have the best chances of actually getting an interview and, as a result, getting the job!
"So how can I be faster than anyone else?" Here are a few tips to take into consideration:
Be prepared: keep your phone on at all times and activate push notifications for your emails; your shot might come at any minute.
Keep your resume updated and ready to go: the better it is, the faster it will get into the HM's hands. Remember: recruiters format your resume to make it look perfect; if it is already perfect, then it will get to the company right away. If you need help perfecting your resume, try hiring a graphic designer and look up some examples online.
If there is any paperwork/exam/agreement necessary, please complete it as quickly as you can. This could save you a lot of time.
Check your job alerts every day. There are always new jobs posted and you could be the first one to know.
Neuvoo posts thousands of new jobs every day; one of those could be your dream job. Land it today!
Vanessa Romero / NEUVOO
Country Manager US/CA
Begin your job search here: Neuvoo USA
Argentina | Australia | Austria | Bahrain | Belgium | Brazil | Canada | Chile | Colombia | Costa Rica | Czech Republic | Ecuador | Egypt | France | Germany | Greece | South Korea | Hungary | India | Indian Ocean (British) | Indonesia | Ireland | Italy | Japan | Kazakhstan | Kuwait | Luxembourg | Malaysia | Mexico | Morocco | Netherlands | New Zealand | Nigeria | Norway | Oman | Panama | Peru | Poland | Portugal | Puerto Rico | Qatar | Romania | Russia | Saudi Arabia | Singapore | South Africa | South Korea | Spain | Sweden | Switzerland | Taiwan | Turkey | UK | Ukraine | United Arab Emirates | Uruguay | USA | Venezuela | Vietnam